About Glen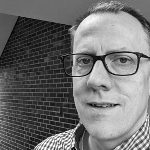 I'm Glen. I spent my childhood in Chicago, but I've spent most of my life in SouthWest Ohio. I currently live in Cincinnati with my family and two four hungry cats.
Over the past few years I've made lots of big changes to live a more meaningful and less stressful life. I now consider myself a recovering perfectionist. I've also embraced minimalism so I can focus on the things that matter in my life and simplify as much as possible (like this simple website). That means owning less, doing less, and worrying less. It's a work in progress.
What am I up to now? (updated 6/21/20)
Social distancing (been practicing for this my whole life)
Pursuing my Masters in Information Technology from UC
Trying to focus on the important things (which aren't things)
Practicing yoga and meditation
Trying to learn new juggling tricks (it's hard)
Exploring new types of music (mostly Lo-Fi and Downtempo right now)
Reading Deep Work: Rules for Focused Success in a Distracted World by Cal Newport
I'm passionate about libraries and free access to information. I'm also passionate about technology, especially open source software and web applications. I started supporting technologies in libraries in 1992 while I attended Wright State University. Over the past 25 years I've helped public, academic, school, and special libraries use technology to provide better services to their patrons.
I currently lead the Application Development Unit at the University of Cincinnati Libraries. Most of my time is spent leading an agile group of developers on open source projects like Scholar@UC.
Random tidbits:
My full name is Glendon Desmond Horton. It was my grandfather's name.
I'm a Star Wars fanboy. Seeing the original movie when I was three is one of my earliest memories.
The earliest trace of me on the Internet is a Usenet posting on October 3, 1994.
My first computer was an Atari 400.